WARRIORS' AWAKENING RETREAT
OCTOBER 24th - 29th
"The Warriors' Awakening Retreat" was created to assist Veterans who may be struggling to find their way among the chaos. Using nature as a healing tool, it is our intention to help Veterans rediscover the peace within the Warrior, guidance in the process of surrendering experiences which no longer serve a greater purpose and to provide them with a foundation for the life they deserve as they move forward. It's the war within ourselves we often struggle with most."
What to expect:
Join us Oct. 24th-29th in Roxbury, Maine at the Human Nature Hostel for a unique and holistic experience, focusing on empowering veterans with healthy coping skills, and building community.

This 5-day healing retreat offers, healthy food, wilderness hikes, meditation, discussions, yoga, visionary painting workshops, sound healing, journaling, archery, horseback riding and sacred (temezcal) sweatlodge.

Nature hikes w/ Marine veteran, Ryan Holt
Visionary painting w/Marine veteran, Veronika Rose
Sound Healing and sweat lodge w/ Drea Silvestri
Yoga w/ Army veteran, Crystal Plunkett
Archery w/ Alanna Rich

Your accommodations include;
- Pick up and drop off @ Portland, ME airport Oct. 24th and 29th.
- 5 days/5 nights lodging at the Human Nature Hostel.
- 3 healthy meals per day
- Use of Hostel amenities
- All Group activities;
- Day hiking excursions, yoga, painting materials, sound healing/therapy, sweat lodge, archery, horseback riding and video Zoom group chats.

Price is $1,000 per veteran.

If you would like to become a sponsor and to donate to enable a veteran to join please contact us.

The retreat is co-ed and limited to 14 veterans. Veterans sleep in shared quarters in a dormitory/bunk space in the Hostel. Males and females will have separate sleeping quarters.
Ear plugs available upon request. = )

We encourage you to come with your "Battle Buddy," or your friend who also could benefit from this experience.

SCHEDULE:
Thursday-
11:00-2:00pm Arrival
2:00-4:00pm Drive from airport
4:30-6pm Check in
6:00pm Dinner
After Dinner Orientation @ firepit
Icebreaker games
10:00pm lights out on inside dome
Friday-
7:30 Breakfast
8:30-9:30am Yoga
10:00am-12:00 Nature Walk
12:00-2:00pm Lunch/free time
2:00-3:00pm Sweat Lodge Prep
3:00pm start stones
5:30 Sweat Lodge
8:00pm Dinner
Saturday-
7:30 Breakfast
8:30-9:30 Yoga
10-2pm Archery with Alanna Rich
2:30-4:30 Painting
4:30-6pm Free time
6:00pm Dinner
Firepit/burning things that are no longer serving
Sunday-
7:30 Breakfast
8:30-9:30 Yoga
10:00-3:00 Horseback Riding/Lunch
3:00-4:00pm Free time
4:00-6:00pm Sunset painting
6:30 Dinner
Firepit/open mic, live music
Monday-
7:30 Breakfast
8:30-9:30 Yoga
10:00-2:00pm Nature hike/lunch
2:30-4:30 painting
5:00-6:00 Sound Meditation
6:00pm Dinner
Secret sister/brother reveal @fire
Tuesday-
7:30 Breakfast
8:30-9:30 Yoga
10:00-12:00 Closing circle
12:00pm Check-out
ALL Veterans interested in attending must fill out the Questionnaire below:
PAYMENT:
We are raising $500 for each Veteran and asking the Veteran to cover the other half of expenses for a total of $1,000
Reserve your space with a $250 deposit or pay $500 in full.
donations:
It is our intention to crowdsource 50% of the cost ($500) for each Veteran attending. Every little bit helps! If you are able, please click on the button below to select "Any Amount" or one of the 3 options of $50, $100, $200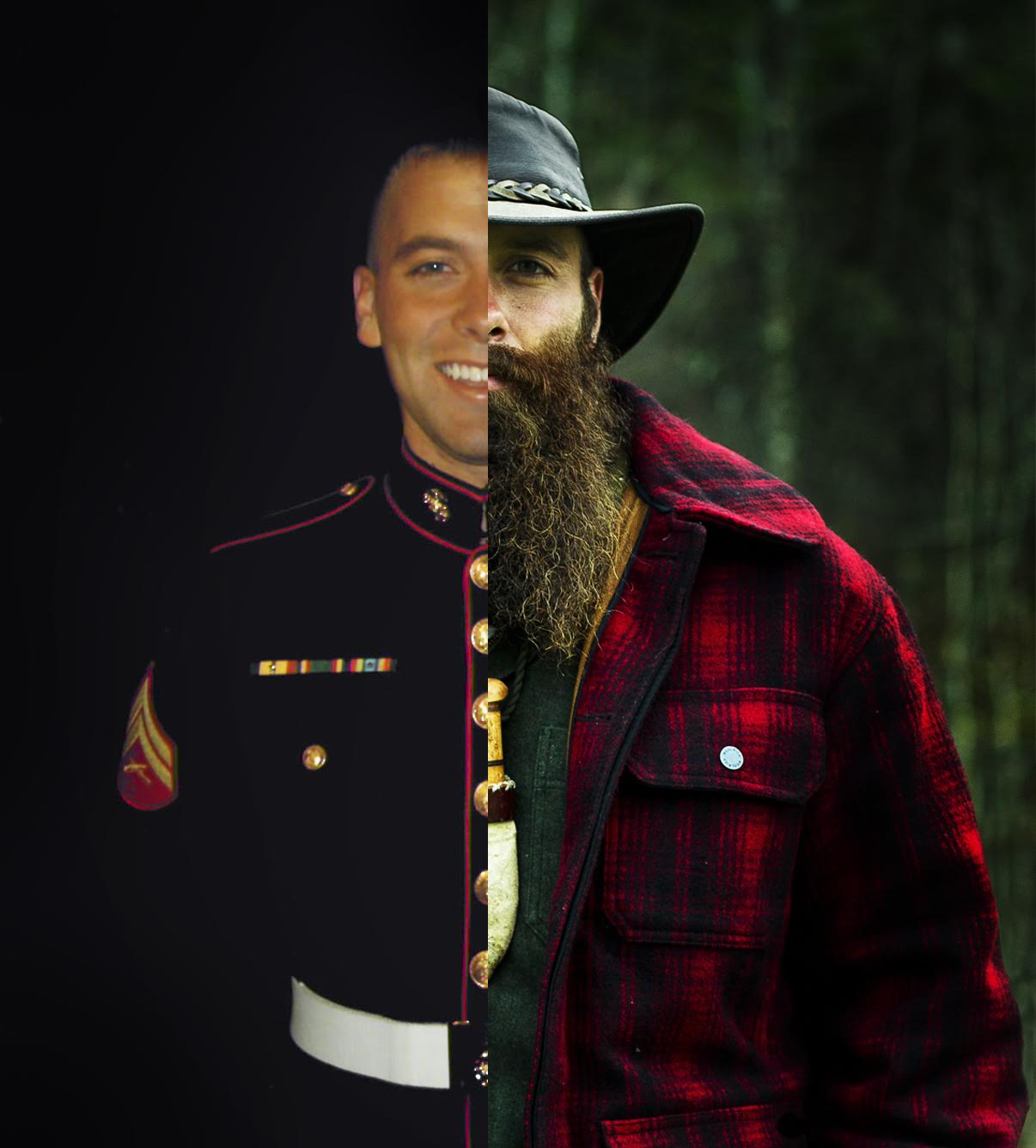 Also known by my trail name "Yukon" as I thru-hiked the Appalachian Trail (2,184 miles) from Georgia to Maine in 2012. As a Maine native, I've always had a deep appreciation and love for the natural world. My younger self served 8 years in the United States Marine Corps Infantry from 2003-2011. After multiple deployments to the front lines of Iraq & Afghanistan, I had never been more lost and the amount of unanswered questions seemed to be drowning me. I felt, "There has to be more to this life..?" Following my honorable discharge and in search of a greater purpose, I took to the Appalachian Trail and "walked off the war." On September 18, 2012 (my 28th birthday) I completed the A.T., "Meeting myself for the first time on top of Mt. Katahdin." Six months immersed in the mountains was all the medicine I needed and this is where the vision of The Human-Nature Hostel was created. I had let go of everything, surrendered to the forest and dedicated myself to healing, teaching & inspiring others through the powerful healing medicine of Nature.
Veronika Rose is a visionary artist and Marine Corps Veteran. She was deployed twice in support of Operation Iraqi freedom as public affairs and broadcast/print combat journalist with the First Marine Division in Kuwait and Iraq. Upon returning home to the States she was diagnosed with PTSD and thus began her path of self discovery and deep healing. Soon after discharge in 2005, she began painting as a self healing mechanism and now thrives in helping others tap into their own creative potential. A former nurse, Veronika was the healing arts director from 2013-16 for a monthly program at the Orlando Veterans Hospital focusing on holistic healing classes for veterans with PTSD including; painting, poetry, qigong and yoga. Meanwhile she also began a plant medicine path and studied shamanic healing leading her to became a moon dancer, mesa carrier and chanupa carrier. In 2016, She met and trained with world famous visionary painters Alex and Allyson Grey. In 2018 at the Vienna Academy of Visionary Art, she studied classical oil techniques and figure painting with Oleg Korolov and studied acrylics with Autumn Skye Morrison. She is also a scenic painter and has painted for both Disney World and Universal Studios in Orlando Fl. and has painted murals during Art Basel Miami in 2016 and 2017.
Veronika now travels around the world as a freelance artist offering painting classes, painting murals, holding art ceremonies and healing retreats.

In today's fast paced world, we could ALL use a practice that allows us to slow down, tune in and embrace the gratitude of being. Crystal has been practicing Yoga for over 15 years, first embracing Yoga as a workout and has since evolved her practice into something that transcends the physical body. After 16 years of active Army service, Yoga has been a centering force to alleviate some of the chaos of balancing a career that resulted in working and living in 11 different countries and very recently transitioning into the civilian world. In 2018, Crystal completed her 200hr YTT with the Veteran Non-Profit VEToga, offering a mix of Hatha Raja Vinyasa Flow with Pranayama and Yoga Nidra inspired by the teachings of Sri Dharma Mittra. In addition to her 200hr YTT, Crystal also holds certifications in Y12SR (Yoga for 12 Step Recovery) and Prana Pump Yoga, and includes aspects of Kundalini Yoga and physical therapy movements into her practice. Crystal is passionate about service and sharing unconventional and integrative holistic healing modalities with others, especially with the veteran community.
Andrea Sylvester "Drea" was born in Herkimer, New York in 1972. At a young age she questioned her religious upbringing. This moved her to travel abroad and learn from many indigenous cultures. Through these travels she has studied and been certified as Royal Thai Massage teacher with TMC School in Chiang Mai Thailand. She is a seven year Moon Dancer in the Mexica tradition at Ollin Tlahui Meztlia where she has been passed on the honor to hold Temazcals (traditional sweat lodges). Drea is a channupa carrier, Vision Quester and Sundancer of Fuego Sagrado Itzachilatlan supporting this family in ceremonies through out the year. She also studies the Andean healing path of the Pachakuti Mesa of Peru. Being a Certified Reiki Master and Homonymic Energy Healer and having the believe that all comes from vibration, Drea fell in love with healing using energy, sound and vibration. She currently studies at West Coast Acutonics in healing with tuning forks. Currently living in California, and being an herbalist she works closely with sacred plant medicine and has a line of plant based products. Drea works closely with different medicine healers assisting and playing in ceremonies. She is a member of the Native America Church. Drea can be reached at dreaonelove@gmail.com.
The hostel is located in Maine's most pristine mountainous region, where rivers, lakes, trails, summits, waterfalls and hidden gems are abundant. Veterans will be paired up with someone they served with and guided along extended backpacking & canoeing trips while learning the four basics of survival and primitive living skills. This experience will give each of us the opportunity to decompress and share in the comradery with our fellow warriors. Simply immersing ourselves in Nature offers a much more affective way of healing our inner selves. Sometimes all it takes is sitting around a fire on the mountain under a celestial starry night and reminiscing with a band of brothers & sisters.