JANUARY 1, 2019
SKI & SNOWMOBILE SEASON!!
The Human-Nature Hostel is a (BRAND NEW) large timber framed Geodesic Dome. It is situated on 42 acres in the Southwestern mountains of Maine, on the North side of Black Ski Mountain & direct access to the ITS-82 for Snowmobiling. The first floor of the Dome is a spacious 20ft cathedral ceiling great room constructed entirely of Pine, Cedar & Hemlock. This floor offers a Large communal living room, master bathroom, shared kitchen and book nook. There is also an open half loft that sleeps up to 6 people with its own full bathroom. The Dome has a full daylight walkout basement level with a spacious bunk room that sleeps 14 people. This is where you'll also find the Lounge, TV/Movies, Games, loaner clothes, laundry, Refrigerator/Freezer & WiFi.
Available 7 days a week!
*Please call for reservationS: 207-408-8216
-Nightly Rates-
$500.00/Group (Weekends)
- Groups up to 16 people can now book the entire space!
Everyone gets their own bed w/ fresh sheet, pillow & blanket.
Full use of entire Dome: Kitchen, Bathrooms, Laundry, Shower, Toiletries, Lounge TV & WiFi.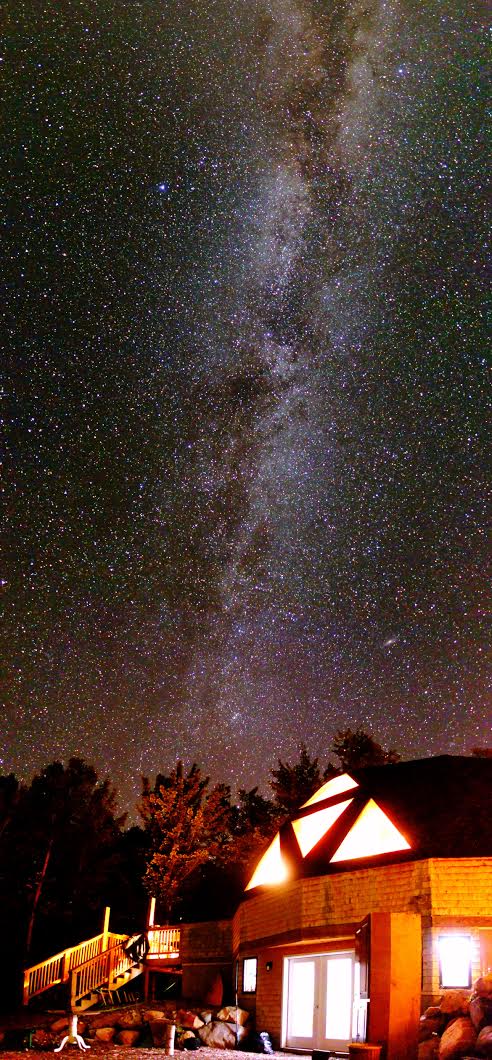 "I live in nature where everything is connected, circular. The seasons are circular. The planet is circular, and so is the planet around the sun. The course of water over the earth is circular coming down from the sky and circulating through the world to spread life and then evaporating up again. I live in a circular teepee and build my fire in a circle. The life cycles of plants and animals are circular. I live outside where I can see this. The ancient people understood that our world is a circle, but we modern people have lost site of that. I don't live inside buildings because buildings are dead places where nothing grows, where water doesn't flow, and where life stops. I don't want to live in a dead place. People say that I don't live in a real world, but it's modern Americans who live in a fake world, because they have stepped outside the natural circle of life."
-E. Conway